the Attorney-General chambers.
Anwar Ibrahim is both a political icon and a game changer in Malaysian politics. A former anointed successor to Tun Dr. Mahathir, he was charged for Sodomy in 1998 and imprisoned for a considerable period of time in Sungai Buloh.
The continuing efforts to use the judicial system against opposition political leaders will undermine Malaysia's leadership role in regional and global affairs as well as weaken Malaysia's traditions of political openness and democracy. Malaysian authorities, as Human Rights Watch Asia Director, Phil Robertson, has stated, "risk making a travesty of the country's criminal justice system" unless they withdraw their case against Anwar Ibrahim.
Former US Vice President Al Gore framed the issue clearly last March when he said: "It is extremely disturbing that the government of Malaysia – by continuing to press this case beyond the bounds of reason, let alone the bounds of justice – has used the courts to short-circuit the political process."
Anwar Ibrahim ( Malaysia's Parliamentary Leader of the Opposition) is in the Malaysian Federal Court this week for what hopefully is the last chapter in a sordid affair that has done nothing but distract him from his reform agenda. We have been critical of Malaysia's Judiciary in the past and hope that at this moment in time, the five judges at the Federal Court who are tasked with reviewing the appeal of Ibrahim's March conviction on charges of sodomy, will adhere strictly to the Rule of Law and not be swayed by external political influences.
The debate around decriminalising
Rats should be the second-most-successful mammals in the world after humans, given their almost equal distribution across the planet. No one would seriously dispute that these two species also overlap when it comes to many characteristics. It is not surprising, therefore, that one of the most enduring urban myths is that in Putra Jaya — a city that prizes many a gnawing murine and human quality — there are as many rats like
Muhammad Shafee Abdullah
as there are people like Mahathir .
Sri Ram was countering the claim by lead prosecutor Tan Sri Muhammad Shafee Abdullah that Saiful was a victim of sexual abuse suffered under Anwar, with whom he claimed "had a relationship".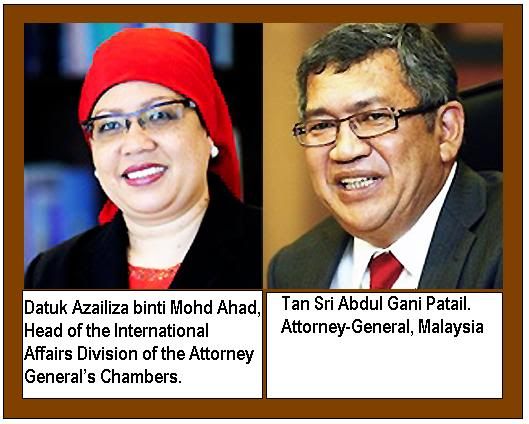 Muhammad Shafee Abdullah has denied Anwar Ibrahims allegations that he had said that he wanted to hit the 'final nail in Anwars coffin.'
He said he did not mention the word nail or even coffin and denied the case was politically motivated or that there is a conspiracy.
was charged and convicted on the strength of a witness who was completely unreliable," said Sri Ram of the first charge in 1998.
Sri Ram said that Anwar was once again "hounded" by the prosecution on this second charged based on a witness whose evidence cannot withstand scrutiny.
Yesterday, Sri Ram said, "If Saiful's evidence is believable then fairies should also be believed".
He saw several inconsistencies in the prosecution's submission, including the tendering as evidence, a pair of luxury-branded pants supposedly given by Anwar to Saiful as proof of their relationship, but without any label to support the claim that it was a branded piece of clothing.
Sri Ram also observed other inconsistencies in the evidence, such as the seizure of the carpet where the alleged sexual act took place. The carpet was seized by police from a different condominium unit than the one stated in the charge.
Other members of the defence team, co-counsels Ramkarpal Singh and Sangeet Kaur Deo, had submitted on the DNA evidence used in the trial, which they said had been tampered with and were of degraded quality due to mishandling.
They focused on collection of Anwar's DNA from items he allegedly used while in the police lock-up after his arrest for investigations, charging that these items were obtained unlawfully and with deceit.
The DNA found on these lock-up items matched that of samples belonging to "Male Y" which was found in Saiful's anus.
On that basis, the prosecution said Anwar was guilty of sodomising Saiful.
The defence sought to convince the apex court that there was no proof that Anwar and Male Y was the same person, and had told the federal bench to restore the findings of the trial court which acquitted him on the basis of weak DNA evidence.
Fabricating DNA evidence
AS A MATTER OF NATIONAL SHAME
A TRAITOR IS A TRAITOR, WITH OR WITHOUT A UNIFORBY MOHD SAIFUL BUKHARI BIN AZLAN (IC NO: 850706-01-5687), WHO TURNED 23 LAST
MONTH: SAYA, MOHD SAIFUL BUKHARI B AZLAN, INGIN MELAPORKAN BAHAWA SAYA TELAH
DILIWAT OLEH MAJIKAN SAYA. PERKARA INI BERLAKU TANPA KERELAAN SAYA. KEJADIAN
TERAKHIR BERLAKU 26/6/08 DI UNIT 1151, KONDOMINIUM DESA DAMANSARA, JLN SETIA
KASIH, KL. OLEH ITU, TUJUAN LAPORAN INI DIBUAT UNTUK MENDAPAT PEMBELAAN DAN
KEADILAN KEATAS DIRI SAYA. SAYA JUGA BERASA BIMBANG DENGAN KESELAMATAN DIRI
DAN KELUARGA SAYA JIKA PERKARA INI TERSEBAR LUAS DI KHALAYAK RAMAI. MAJIKAN
SAYA DATO SERI ANWAR IBRAHIM – KETUA UMUM PKR.YES, THAT POLICE REPORT WAS MADE AT 5.45 PM ON SATURDAY, 28 JUNE 2008. BY
WHY DID IT TAKE THAT LONG FOR SAIFUL TO MAKE HIS POLICE REPORT? LET US
RETRACE THE STEPS THAT LED TO THIS POLICE REPORT.
AT 2.30PM ON WEDNESDAY, 25 JUNE 2008, SAIFUL MET SENIOR ASSISTANT
COMMISSIONER (SAC) II MOHD RODWAN MOHD YUSOF IN ROOM 619 OF THE CONCORDE
HOTEL IN KUALA LUMPUR. PRIOR TO THIS SECRET MEETING, RODWAN AND SAIFUL SPOKE
ON THE PHONE AT LEAST EIGHT (8) TIMES.
IN FACT, THEY CAN'T REALLY REMEMBER HOW MANY PHONE CALLS IT WAS. THEY SAY IT
WAS AT LEAST EIGHT TIMES ALTHOUGH IT COULD HAVE BEEN MAYBE TEN OR TWELVE
TIMES. BUT WHO'S COUNTING ANYWAY? EIGHT, TEN OR TWELVE DOESN'T REALLY
MATTER. THE CRUX OF THE MATTER IS: THEY SPOKE OVER THE PHONE MANY TIMES
PRIOR TO MEETING UP IN ROOM 619 OF THE CONCORDE HOTEL — A 'SECRET' MEETING
THAT CAN'T BE VERY SECRET IF MALAYSIA TODAY KNOWS ABOUT IT.
WE MUST REMEMBER ONE THING. RODWAN IS THE SAME POLICE OFFICER WHO WAS
INVOLVED IN FABRICATING THE 1998 SODOMY ALLEGATION AGAINST ANWAR. RODWAN WAS
IMPLICATED AS THE MAN WHO ILLEGALLY TOOK ANWAR'S SPECIMENS, WHICH
SUBSEQUENTLY MYSTERIOUSLY REAPPEARED AS 'STAINS' ON A MATTRESS. IT WAS SO
APPARENT THE MATTRESS WAS PLANTED AS EVIDENCE THE JUDGE SUBSEQUENTLY
REJECTED THE MATTRESS AS EVIDENCE AND ORDERED THAT ALL REFERENCES OF IT BE
EXPUNGED FROM THE COURT RECORDS.
THAT WAS ALL IT TOOK. WHEN THEY REALISED THAT THE MATTRESS WAS HURTING MORE
THAN HELPING THEIR CASE, THEY THREW THE MATTRESS OUT OF THE COURT AND
DELETED ALL RECORDS OF IT EVER APPEARING IN COURT. AND, ALL OF A SUDDEN, THE
MATTRESS NO LONGER EXISTED. IT VANISHED INTO THIN AIR. IT 'NEVER APPEARED'
IN COURT ALTHOUGH FOR WEEKS IT WAS PARADED IN AND OUT OF COURT FOR THE WHOLE
WORLD TO WITNESS.
THIS IS WHAT LAWYER AND PARLIAMENTARIAN SIVARASA RASIAH HAD TO SAY ABOUT THE
MATTER:
"IN 1998-1999 TRIALS, ANWAR EXPERIENCED THE PHENOMENON OF FABRICATION OF DNA
EVIDENCE. WE HAD SAC RODWAN ILLEGALLY REMOVING DNA SAMPLES FROM FORENSIC
CUSTODY. IN CROSS-EXAMINATION OF THE PROSECUTION'S WITNESSES IT WAS EXPOSED
THAT DNA TAKEN FROM BLOOD SAMPLES WAS PLANTED ON THE INFAMOUS MATTRESS."
"WHEN CONFRONTED WITH THIS FACT THE PROSECUTION AMENDED ITS CHARGE AND
PERSUADED THE JUDGE, AUGUSTINE PAUL, TO EXPUNGE THE ENTIRE DNA EVIDENCE FROM
THE RECORD, PREVENTING ANWAR'S LAWYERS FROM RESPONDING."
THERE WERE, IN FACT, OTHER SO-CALLED 'DAMAGING EVIDENCE' THAT THEY CREATED
AGAINST ANWAR TO CONVINCE THE PUBLIC THAT HE IS INDEED GUILTY OF SODOMY. IN
TIME, MALAYSIA TODAY WILL PARADE THESE WITNESSES AND REVEAL THIS EVIDENCE TO
DEMONSTRATE TO THE PUBLIC THAT THE SLIME-BALL IGP AND SCUMBAG AG, PLUS THEIR
SLITHERY MINION, RODWAN, FIXED ANWAR'S ASS GOOD AND PROPER (PUN INTENDED).
NOW, RODWAN MET SAIFUL THREE DAYS EARLIER AND THESE TWO EXCHANGED AT LEAST
EIGHT PHONE CALLS. NEVERTHELESS, NO POLICE REPORT WAS MADE UNTIL SAIFUL HAD
VISITED TWO HOSPITALS — THREE DAYS LATER. WHY ENGAGE IN EIGHT PHONE CALLS
AND HAVE A SECRET MEETING WITH RODWAN IN A HOTEL ROOM, AND ONLY AFTER VISITS
TO TWO HOSPITALS DOES SAIFUL MAKE HIS POLICE REPORT?
LET US LOOK AT THE TIMELINE AGAIN
Anwar is on trial for having sodomized his former aide Saiful Bukhari Azlan in June 2008, soon after he announced plans to make a comeback to Parliament.
He has denied the charges and accused his arch rival Mahathir, Najib Razak and wife Rosmah Mansor of hatching the plot with Saiful to derail his political career.
Wrapping up the defence's closing reply in the Federal Court's hearing of Datuk Seri Anwar Ibrahim's sodomy appeal, lead counsel Datuk Seri Gopal Sri Ram sought to rebut the prosecution's claims that complainant Mohd Saiful Bukhari Azlan was a victim.Saiful was an accomplice, the defence said, as he had a motive against Anwar, with facts and circumstances showing he lacked credibility.
"Facts and circumstances in this case, including element of motive, and the fact that in this case allegations can be easily made but are difficult to rebut, were recognised by the High Court," said Sri Ram.
The High Court had acquitted Anwar of a charge of sodomising Saiful in a condominium unit in Bukit Damansara on June 26, 2008
The mob boss Y

oung Jackal asshole, Khairy
you are indeed a despicable Filth and Evil never ever changes –he can hide, camouflage himself, but will never deliver benefits
Umno Youth chief has poured scorn on Anwar Ibrahim's bid to make his sodomy appeal a litmus test for the government, stressing that it is the opposition leader and not Putrajaya that is on trial.

Of course it is Anwar who is on trial. But whether he gets a fair trial is about the country, its judiciary, what UMNO has done to the judiciary, and hence about UMNO and its leaders. Yes, KJ,your government

falls from grace, embarrassing blunders of elected officials.

you are on trial too.

Lawyer M. Visvanathan said the central issue in the case was why it took Saiful two days to lodge a report that he was sexually assaulted by Anwar.

He said the samples retrieved from Saiful was finally analysed by Dr Seah some 96 hours after the incident.

"The samples were not in sterile condition. It was taken from the anus which is rich in bacteria to break down organic matters like semen," said the lawyer, who had defended clients charged with sodomy and rape.

He described this piece of evidence in this case as "incredible and miraculous".

"I am no fan of Anwar but based on established legal principles and the evidence in this case, his legal team could convince the apex court to possibly get an acquittal."

Visvanathan said the prosecution had to prove its case beyond reasonable doubt, a higher standard placed on them.

"On the other hand, the defence was only required to cast a doubt in the prosecution's case to earn an acquittal," he added.

He said the apex court judges had to decide whether the trial judge was right in accepting the opinions of the foreign experts or the appellate court's reliance on the evidence of the chemists.

Malaysia's judicial system has been criticised as biased, especially against opposition politicians.
The 1998 and 2008 sodomy charges against Anwar, the opposition leader, have given fodder to government critics to support this claim.
Anwar is current appealing his conviction on the second charge at the Federal Court.
Critics also accused the Malaysian judiciary of bias in the use of draconian laws, such as the Internal Security Act, against opposition politicians.
Even the judges themselves will admit that they totally have not a bit of confidence in the judiciary as they know what has been happening inside the judiciary system.
The judiciary should take notice and heal themselves from the Umno cancer. If the same poll was conducted on the police, the civil service, ruling party politicians, academia and the royal institution, the results would be just as damning, if not worse
the rakyat today knows where they stand.They can't even come near to Najib or the IGP,not to say being invited to the top man's house and discuss his predicament with the IGP one to one.Which small victim has ever this kind of privilege?I don't need to quote the Small victims which others have mentioned.It's not so much Anwar or Saiful as the victims,we the rakyat are the perpetually victims,that is why the rakyat are totally fed up with the present Govt.

Justice is for all, including the dead. There was no justice for Altantuya, Teoh Beng Hock, Kugan and the many police custodial deaths. The government should allow the judiciary and the AG's chambers to be independent especially for political cases involving Umno interest and election petition cases. It is selective persecution and skewed justice when the government appealed the high court verdict of Sodomy2, where DSAI was freed, with the extent of the AG's chambers employing a senior lawyer from the private sector. At the same time the Altantuya verdict was let off without any appeal. This is very clear government interference.

Maslan is really an idiot. Saiful may not be richer than him. But certainly Saiful has more attention from Najib. I truly wish that you are the one on the dock.

Can anybody in the country make an appointment with the PM that easily? He was and so important to Najib that he can grant an audience on the spot
25 years ago, the Berlin Wall — a symbol of suppression of human rights and the Cold War — fell, making room for democracy and free thinking. Events commemorating the fall of the wall highlight the significance of November 9: a 'symbol of hope for a world without walls'. Can we, just as easily, destroy the wall of ignorance and ego that we have built around ourselves? Can we break free and know Reality and create an egalitarian society that unites people's hearts?
Our problem is that we create our own comfort zones and don't want to come out of those. For us, what is familiar is right and, hence, comfortable.
So, we are unable to accept the unfamiliar. We prefer to be like the prisoners in Plato's Cave allegory. We are comfortable with what we perceive — gained through our sensory organs — as Truth. We rarely get into philosophical reasoning to know Truth. In the process, we have become divisive.
Every belief — hers and mine included — is unique in its own way. To use a clichéd phrase, all roads lead to the same Truth, only the modes of transport are different. Just as the fall of the Berlin Wall symbolises the rejection of twisted ideas, let us break the wall of ignorance and connect with each other's faith, belief, practices and culture. Let us celebrate the fall of ego and ignorance. Let's break free.
Anwar Ibrahim has failed in his bid to expunge certain paragraphs in the majority 2004 judgment acquitting him of the first sodomy charge, for which he was sentenced to nine years' jail, but which also stated unequivocally that the incident had taken place.

This is the sacrifice a politician must anticipate. The whole country will assure you that your supreme sacrifice will not go to waste.